For Residential and Commercial Applications
The choice of stone for your countertop is something you can feel good about. Natural stone does not emit harmful VOCs, and stone's good looks and durability will last a lifetime and never go out of style. Versatile, natural stone fits well in today's modern environment. And stone is just as at home in a grand traditional setting as it is in a rustic renovation.
If you've fallen in love with a countertop in a magazine and are unsure what it is, we will try to identify and match it for your project. Call us today to set up an appointment and see/feel materials first-hand or stop by our showroom Monday – Friday between 9am and 4pm to browse our displays. (Saturdays by appointment only.)
Woodland Jade Slate™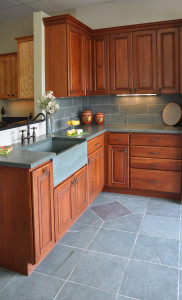 Quarried right here in Vermont, the colorful beauty of our slate is honed to a smooth, matte finish. The honing process actually makes the slate denser and highly scratch resistant. Our superior slate will not delaminate, fade or stain, is impervious to water and is naturally antibacterial. Slate is easily maintained as it does not require sealing and can be kept clean with your favorite liquid general household cleaners.
Green Mountain Soapstone™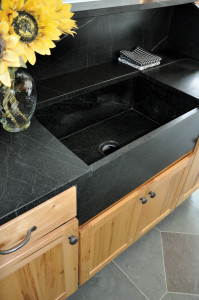 Dense and durable soapstone is as practical as it is good looking. Soapstone has a matte finish, is naturally antibacterial, will not burn or stain and cleans up simply with soap and water. Go ahead, put hot pots right on it! Acids and alkalis (tomato sauce, wine) will not etch soapstone.  Green Mountain Soapstone Mineral Oil or Enhancer is applied to enhance the beauty of the stone. No chemical sealant is required.
Marble
Classically stylish marble can be honed or polished. At RMG Stone Products, we specialize in domestic marble,  which are quarried right here in Vermont. Marble is one of the most long-lasting countertop materials—if properly sealed and cared for. It is highly resistant to scratches, cracks, and breakage. Marble will not burn but the finish can be discolored if exposed to hot items. Marble is sensitive to acids and some household cleaners, so a cleaner made specifically for marble surface is recommended.
Vermont Verde Antique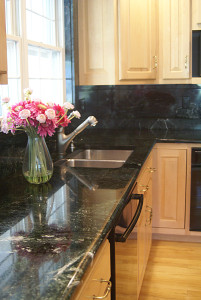 Vermont Verde Antique is a rich green serpentine quarried in the Green Mountains of Vermont. Due to its mineral composition it is impermeable to stains and resists etching from acids. Its classic good looks, durability and low maintenance makes Vermont Verde Antique an excellent choice for kitchen countertops. Vermont Verde Antique is available in a polished, honed or leather finish.
Danby Imperial White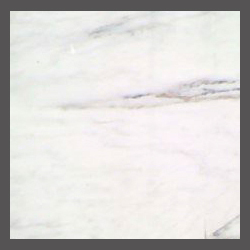 Danby Imperial White marble is quarried in Vermont and noted for its soft gray and gold veins, which are light to medium in color. Danby Imperial White adds a very soft and subtle beauty to any bathroom or kitchen and can be installed with a polished or honed finish.
Granite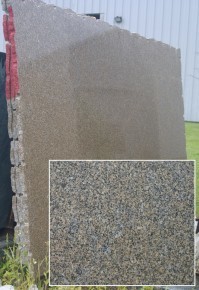 Elegant and sleek, granite usually comes in a high polished finish but can also be installed in a honed finish. Granite is the hardest natural stone surface available, making it extremely durable as well as heat and bacteria resistant. It is available in a multitude of colors, patterns and grains.  Most granite can be cleaned with any surface cleaner. Keep your granite free from standing water to avoid staining.
To add natural stone finishing touches to your project, visit our ACCESSORIES page.