Green Mountain Soapstone™ Cabinet Knobs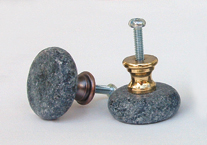 Price $14.95 each, includes shipping.
Soapstone cabinet knobs provide a custom finishing touch when paired with soapstone countertops and sinks. Available with Burnished Brass and Polished Brass finials.
Soapstone knobs can be treated with Soapstone Enhancer or Mineral Oil to enrich the color of the stone or can be left untreated to develop a naturally worn patina.
All knobs are 1 1/4″ in diameter, project 1″, and the screw accommodates a standard 3/4″ cabinet.
Slate & Soapstone Switch Plates
Authentic stone switch plates are cut and finished by hand. Choose soapstone, slate in numerous colors, or even recycled slate! Made from repurposed antique roofing tiles, each of our recycled switch plates has a unique patina and history.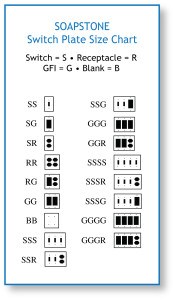 Click here to download Switch Plate Pricing Sheet